1) Batch Rename .EXE Publisher's Description

Run dynamic lists of files through an extensive array of filename filters to ensure that your files are labeled and organized exactly how you want them. Use filters to add information, remove spaces, change capitalization and more. Batch Rename .EXE provides you with comprehensive labeling solution in just three simple steps.


System Requirements
PC, Windows, 32MB+ RAM, 66+ Mh'z Processe
What's new
Command Line Support, Context Menu Support, MP3 Info
Download

Mirror 1
Mirror 2
Mirror 3

Homepage


2) How to Batch Rename Files in Windows XP

1)Create an empty New Folder.
2) Right Click on empty space & select Arrange Icons by Name
(This manoeuvre is to make sure the first rename file remains first in the list.)
( All unwanted files should not be in the same folder.)
3) Using My Computer or Windows Explorer, open the folder containing the files. Select all the files you wish to rename (use Shift or Ctrl to select multiple files).
4)Press F2 on the keyboard.
5)Type a new name for first file (i.e. the empty New Folder) in the list , then hit Enter. We'll call the first file picnic.JPG - the other files will automatically be given the same name followed by numbers in parentheses.
6)Delete the empty New Folder.
You'll notice that the first file has the exact name you entered, without a number. If you want the numbering to start from the first file, enter the file name followed by the number (1). You must enter it exactly like this - the file name, a space, and the number 1 in parentheses.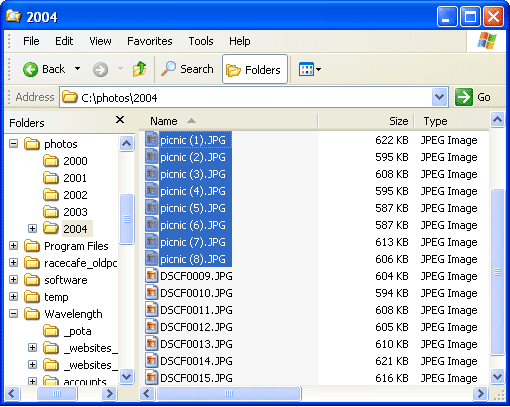 Note: If you make a mistake, you can undo the renaming by selecting undo from the edit menu, or by pressing Ctrl-Z (repeatedly).
Summary

This is a nice simple batch renaming system, but it is quite limited. You can't change the numbering system and you're stuck with the spaces and parentheses. Also, you can't change the case of the file extensions (so in the example above you're stuck with upper-case JPG).

This system will suffice for many people, but if you need more control over the renaming process you'll have to use a specialized utility or other software.

Important: If you plan on using these files on the internet, this renaming system is not a good idea as spaces in file names will cause problems.

3) BatchRename Pro v3.25 | 1.46MB
Download
Mirror
BatchRename is for you to batch rename files and folders freely with all kinds of rules you defined as many as you like, plus some picture conversion and editing features.


Main features:
Highlight rename features
Support EXIF data - rename digital camera pictures with the EXIF data information: Camera name, Digitized date, Original date time, ISO speed, Exposure time, Shutter speed, Lens aperture, F-Number, and more ...
Support renaming files using their Shell detail properties - like what you see on the columns of Windows explorer, including video properties, audio properties and more ...
Support for MP3 Tag ID3 v1 and v2, rename by music's Title, Album, Artist, Genre, BitRate, Frequency, SubTitle, Language, Comment, Copyright, Composer and etc,...
Renaming picture files by their Image properties: resolution, color bits, type format.
Renaming by the local date time format, or file's date time attribute.
Insert specific length of digits ascending or descending based on defined order.
Uppercase/lowercase the first letter of each word, and Uppercase/Lowercase/Remove any specific character in the filenames.
Format the time code for a batch of FX picture filenames.
Select destination output directory to store the renamed files.
Truncate filename to a specific length.
Build rename rules yourself, and combine them to make infinite kinds of rename rules.

Favorite rename rules
You can easily save and pick up your favorite renaming rules. Also, you may ask us to build renaming rules for you for free, and download them from foryoursoft.com to your favorite directory.

QuickView
This function allow you view or play the selected file in the FileList in the "QuickView" window. So you can view the files quickly and decide which ones to be renamed. "QuickView" file types include:
Picture files: .bmp; .jpg; .gif; .tif.
Audio/Video files: .cda; .ivf; .aif; .aifc; .aiff; .asf; .asx; .wax; .wm; .wma; .wmd; .wmv; .wvx; .wmp; .wmx; .avi; .wav; .mpeg; .mpg; .m1v; .mp2; .mpa; .mpe; .mp2v; .mpv2; .mid; .midi; .rmi; .au; .snd; .mp3; .m3u; .vob; (*Need windows media player installed in your computer, it's free for download.)
Flash files: .swf. (*Need Flash player installed in your computer, it's free for download.)
Real media files: .rm; .ram (*Need Real player installed in your computer, it's free for download.)


free_swf_video_multiplayer_v3.2.zip

OR

Flash Movie Player 1.5-Download
Details
View: screenshot
Size: 435.34 KB
License: Freeware
OS: Win95,Win98,WinME,WinNT 4.x,Windows2000,WinXP,Windows2003
Publisher: Eolsoft
Flash Movie Player is a freeware standalone player for Shockwave Flash (SWF) animations, based on Macromedia Flash Player plug-in. In addition to all Macromedia Flash Player abilities, it has a lot of extended features, such as animation rewinding, advanced full screen mode, browser cache integration, .exe projectors support and playlists. Moreover, Flash Movie Player can extract flash movies from .exe projector files and save them in SWF format.
Requirements: Macromedia Flash plugin




Applian FLV Player 2.0




The easy way to play FLV (Flash Video) files downloaded from YouTube and other flash video sites.

View videos at 1x, 2x or even full screen. Download this fully functional software for FREE now!


Get A Free Streaming Audio Recorder: The Applian FLV Player includes an option to install Freecorder Toolbar, a free audio recorder that works right within your browser. Make MP3's from anything you can hear on your PC, including sound tracks from videos, music, and more. Works great with Windows Vista.

FLV Player Feature summary:

Play FLV files on any Windows PC.
Double-click files in File Explorer to play them automatically.
Zoom 50% - 100% - 200% and full screen.
Double click video view-port to toggle full screen.
Drag-and-drop multiple files.
Play URL's, Streams and Local Files.
Remember position on screen at next launch.
Remember audio settings at next launch
Optional video smoothing for fast CPU's.
Small download. Just 2.12 Mb.
No viruses, spyware or adware.
100% FREE. Download now!






Real Alternative will allow you to play RealMedia files without having to install RealPlayer/RealOne Player.
Download Real Alternative 1.75

View blog reactions