To guard against outside people committing click fraud (eg. sabotage activity ) on a site and widget ads, several large publishers have installed scripts that sense when someone at a particular IP address is clicking too fast and too often. The script then blocks that IP address and prevents them from clicking. Thus, their widgets do not show a high number of invalid clicks, and their accounts are not suspended. Publishers who don't have this protection may want to consider installing such a script on their sites.

Click fraud is the act of clicking on ads for the purpose of costing the advertiser money. It is simply the same as paying out cash for false leads. Many website owners are aware of this fraud, and share the same sentiment that this is the one big problem that Adsense is facing.

Protect yourself from click fraud
Here's what you'll need to do:


Get Firefox and use it!


Install the GreaseMonkey extension


Install the Adsense Prevent Accidental Clicks script
You may want to consider
disabling ads for your own IP address and local geographic area
. This will certainly prevent accidents and will not make Google mistake another user as you. You can do through the htaccess file on your web site. the process is too detailed to go into further here, but if you do a search on the engines to learn ways to access and disable portions of this log, a lot of information is readily available. By doing this, and showing Google that you have done so, you protect yourself against any possible threat from Google.
How to use the Hosts File
Study your server logs and watch for any activity that seems suspicious. Report anything that you may find odd, may it big or small thing. Look for large spikes in traffic, and suspicious activity in files and folders where people would not normally have access to. Remember, that when working on your site, that you will access these files and folders. It is suggested you track these by noting the time of activity. A little work on your part will save you a lot of grief in the long run.
Many publisher/webmasters out there worried about invalid clicks being generated at their Adsense ads. Mant resort to monitoring software or tracker script in order to minimize the chance of invalid click(s) being generated. See below for Track Google AdSense Clicks via Google Analytics - Free AdSense Tracker
If there are any visitors have suspicious activities inside your webs (which you've got from your tracking script), then you should report about this case to Google Adsense Support Team immediately and provide'em with the tracking report. They would take a notice for your case and would make any review to your site.
When you've found the suspicious activity from any IP Address which used by your visitors, you should write it down and block those IP Address for accessing your site. While Google Adsense can't block the IP Address for you, it would be your responsibility to make safe your account by blocking the suspicious IP Address by yourself.
Here are the script for blocking the IP Address which are created for every publishers/webmasters who wants to protect their website from any IP Address.
This script is using javascript language which can be implemented at any webpage.
You should put this codes inside the head Section of your webpage :
Download script for blocking the IP Address


Maybe this script is simple looks like. But the effect is very useful for any publishers/webmasters who don't wanna lose their earnings in adsense because of any invalid click activities which being generated by their visitors who don't like'em or don't like their sites.


Track Google AdSense Clicks via Google Analytics - Free AdSense Tracker
There have been 3rd party javascripts (ClickWatch ,Tukanas Click Fraud Prevention script) that track adsense clicks out for a while, but no free ones to my knowledge that track clicks on Firefox. Until now.
This free script integrates with Google Analytics to allow you to track your adsense clicks.
This tracking is done through "Goals". A goal is a way of tracking when a website visitor does something you want - Buy an item, submit a contact form, or in our case click an adsense ad.
Create a goal: To create a goal you assign it a URL. This url doesn't have to exist, as the javascript will trigger it.
In the Goal URL field, enter "/asclick" and "AdClick" for the goal name.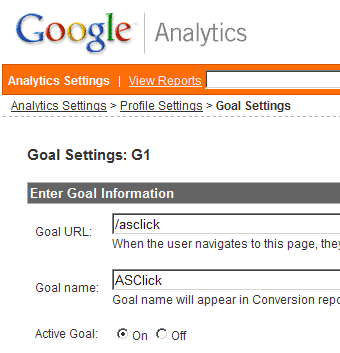 Adding the javscript to your page: Copy the astrack.js to your website server and add the following to the footer of your website. This has to come after all adsense code.
What is urchinTracker and how can it help me?

Testing it: DON'T! There is no way to test that this works as it tracks adsense clicks, and you can't click your own adsense. You'll just have to trust me that works :)
After some time you should start seeing goal tracking appearing in your stats.
For example, here is source conversion. Note that the percentages are based on Visitors, not Pageviews, so they do not compare to CTR.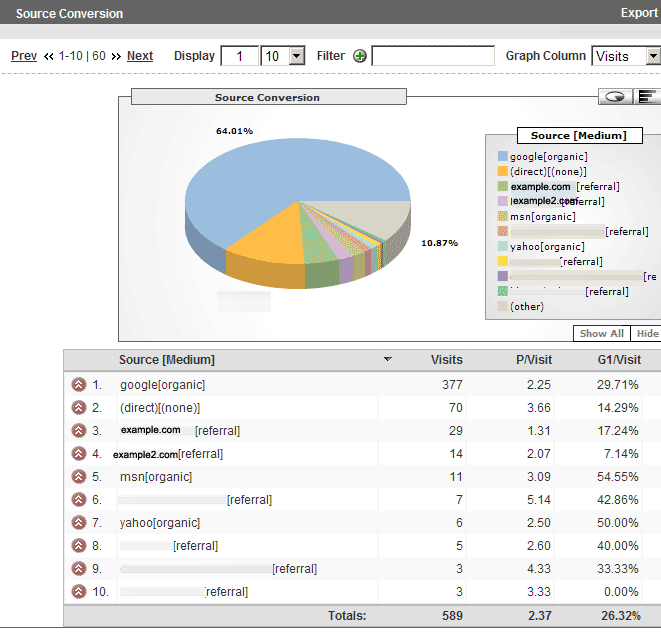 So from that graphic we can see that out of 11 visitors that came from MSN, 54% of then clicked on an adsense ad over the course of their visit.
Below many graphs in Google Analytics is a list with round arrows. If you click the arrows on almost any item you see an option for "To-date Lifetime value".











Click this and you see the Goal conversion for that item. For example here is the Coversion rate for DSL users.





Once you have Google Analytics tracking your clicks, you can cross segment that data to almost any other data Google Analytics shows. It becomes a very powerful way of optimising your site, not just for CTR, but for the type of visitors that click adsense.
More Free Click Fraud Tools

ClickAider is an analysis tool that helps publishers maximize revenues from Pay-Per-Click Advertisements.Related Post:
ClickAider & Blogger Bug

No installation hassles, just place our JavaScript code to start tracking
All reports are are updated minutes after click.
Detect clicks to Google Adsense, Yahoo Publishers Network, Adbrite and a lot more.
tell you where your visitors go whenever they leave your site by clicking on direct links or submitting forms.
Interested how visitors from Florida which came from Google behave on your site? This information is also available and real time.
View blog reactions